Sustainability: The Evolution from Afterthought to Prerequisite
22nd April 2022
'Better late than never', 'with moments to spare', 'at the eleventh hour'…
These phrases carry a sentiment that is all too common in the sustainability arena. However, in the context of the built environment and future placemaking, applying sustainability as an afterthought can be detrimental to the lifecycle of a project or development – especially given that the opportunity to integrate sustainable practices and frameworks often only knocks once.
Consider this scenario: You're being requested to provide sustainability insights for a project currently at the detailed design phase. As you progress with your commission, you realise that sustainability has been overlooked in earlier stages. At this important junction, what decisions can be made in the direction of sustainability? And to what extent can these decisions have an impact? Well, in this situation, the ability to set metrics and targets becomes increasingly difficult. However, there may be limited opportunities to explore design-life and reuse options, consider integrated needs and selection of sustainable materials such as reusing steel piling in construction, installing aerators to restrict water flow, and monitoring and mitigating environmental impacts during construction.  
Therefore, because sustainability was not embedded as an overarching framework within the overall project masterplan, planning at the pre-design stage has failed to consider how the proposed assets interact with other surrounding assets, projects, masterplans or regions. Through this omission, the opportunity has been missed, and costs start accumulating to retrofit, redesign, or even re-build later down the line.
The moral of the story is that although it is never too early to start thinking about sustainability in programmes and projects, an 'earlier the better' approach will result in cheaper, more impactful positive outcomes for project stakeholders and end users. The emphasis on this need is even more relevant with today's societal pressures and legislative changes related to sustainable design and the challenges related to mitigating and adapting to climate change on both a local and international level.
Sustainability is no longer a niche buzzword, but it's far from reaching a tipping point via end-to-end inclusion within the lifecycle of projects.
Sustainability is no longer a niche buzzword, but it's far from reaching a tipping point via end-to-end inclusion within the lifecycle of projects. To embed sustainability as a priority from the get-go, I always consider the following 5 key ways that sustainability can be incorporated within masterplans:
1) Stakeholder Engagement
Stakeholder engagement is the consultation with all groups and individuals that may be affected by the decisions related to the progression of a project or who may influence the project's implementation – therefore enabling a key sustainability topic which is the social or legislative License to Operate.
When devising a masterplan, it is critical to engage with authorities, regulators, industry peers and the public. Determining the means of engagement and frequency is typically outlined in a Stakeholder Engagement Plan which defines: Who, What, How and When. Or in other words:
Who are the priority groups?
What type of information do they need to know?
How do we want to engage them via communication tools for dissemination of information?
When do we involve them in discussions, and at which stage of a project?
Once Stakeholder Engagement is complete, then all feedback and concerns provided by the stakeholders can be assessed and prioritised for future integration.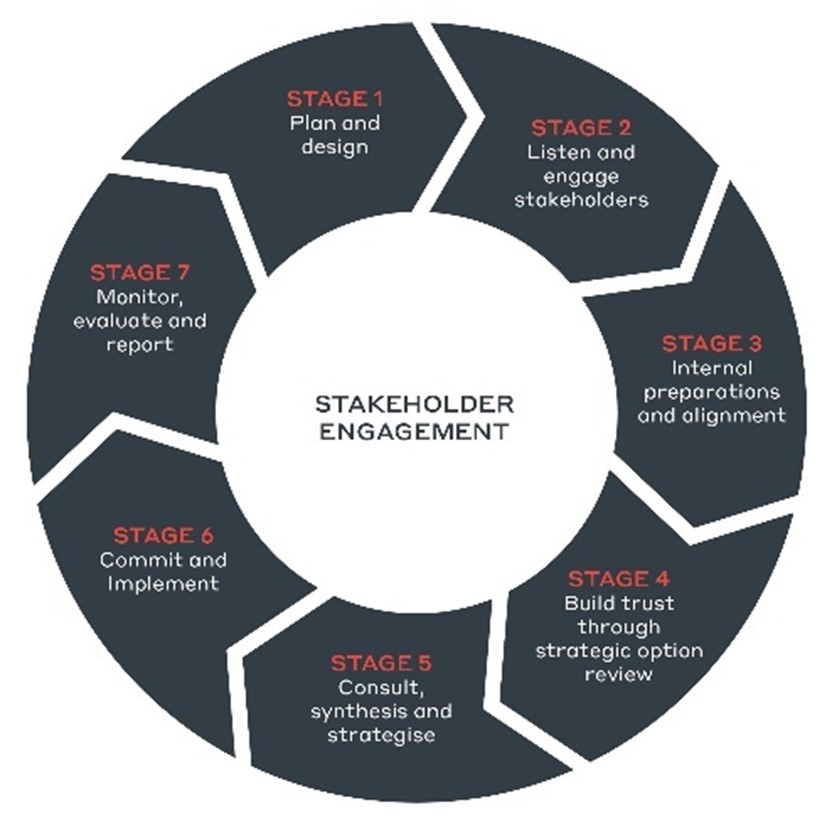 Figure 1: Process Flow of Stakeholder Engagement.

2) Sustainable Site Selection
Sustainable site selection is an important aspect that can enable the integration of sustainable decisions within masterplans. This is because sites that are not feasible or which have an environmental or social impact are eliminated prior to the progression into the stage-gated process.
For instance, consider there's a real estate developer with a hypothetical vision to create 'The Riviera of the Middle East'. The developer would have to select an appropriate coastal area within their existing land bank. A comprehensive options analysis within their land bank conducted at the forefront would then determine which parcels are considered Protected Areas from the local environmental agency due to the presence of a turtle nesting beach, or a critical habitat such as coral reef or seagrass within close proximity. At a very early stage, repercussions to this situation may cause some inconvenience, but would not be costly. Compare this to a situation where the same developer proceeded to develop the masterplan but received a rejection from the authorities or was prescribed stringent and costly mitigation measures that prevented construction within 100 metres from the coast as well as limited activities on the beachfront due to turtle nesting season.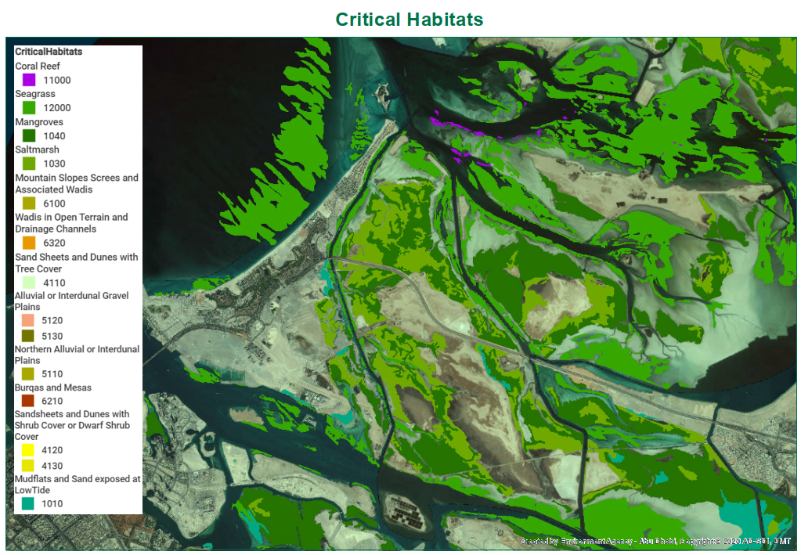 Figure 2: An example of critical habitat mapping for a Coastal Area in Abu Dhabi city
3) Opportunities and Threats Mapping
Opportunities and Threats Mapping is a great way to draw a boundary around areas within masterplans as a result of their sensitivity for integration into a project. For example, the presence of a wadi within a plot may be considered a threat to a developer as it may overlap with some infrastructure or assets and may pose a flood risk in the case of a storm event. However, it may also be an opportunity in disguise which can be repurposed within the Open Space Strategy for the project and could integrate a water feature into the development with some careful management. The use of tools such as Geographical Information Systems (GIS) in this exercise would provide invaluable insights at this stage to help with the technical site assessment and the creation of a Sensitivity Map to capture opportunities and avoid threats.
4) Sustainable Planning and Objective Setting
Sustainable planning is more impactful when sustainability objectives and Key Performance Indicators (KPIs) are set at the forefront rather than as an afterthought. A design team must recognise both global and regional environmental limits, and set appropriate metrics depending on the size, period, and reversibility of the impacts they reflect.
For instance, regional water security can be addressed by setting a KPI for water reduction at pre-concept stage. This may lead to exploring the reuse of greywater for irrigation which can easily be integrated during the concept masterplan with the introduction of a Treated Sewage Effluent network within the project area. Similarly, recognising the global impact of carbon emissions at the beginning of a project and setting an appropriate KPI for energy, may lead to opting for efficient district cooling systems which would save significant amounts of energy (and associated emissions) in a development as it relies on economies of scale and use.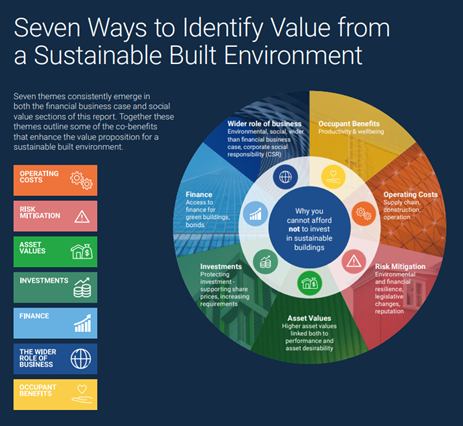 Figure 3:  WSP worked with the World Green Building Council to identify 7 key themes underpinning the business case for investing in sustainable built environments.
Through embedding sustainability from the onset and nurturing the evolution of sustainable developments from an afterthought through to a prerequisite, only then can we truly create positive contributions to the future of our people and the places.
5) Challenge Design Standards
Detailed design entails a set of decision-making processes. Achieving more sustainable design requires pushing the boundaries of the conventional range of alternatives. Hence, designers should always examine novel approaches, component combinations, alternative materials, and question the conservatism of design standards and rules by employing approaches that use the fewest possible resources or energy to accomplish the design aim.
For example, organisations can utilise carbon reduction to challenge design codes by first developing a completely independent 'low carbon design handbook' and mandating its adoption by all designers. By constructively challenging specifications and standards, it is possible to achieve significant cost reductions and performance gains.
Through embedding sustainability from the onset and nurturing the evolution of sustainable developments from an afterthought through to a prerequisite, only then can we truly create positive contributions to the future of our people and the places in which we inhabit.
Want to hear more about how WSP's Advisory Services team is playing a pivotal role in creating sustainable placemaking strategies? Click here to reach out to Noor Salman and find out more.