Dark skies, or stars in our eyes?
12th December 2022
This article is part of a series about dark skies. Click here to read part 2.
WSP Middle East's Head of Specialist Lighting Design, Paula Cortés, shines a light on the opportunities and challenges relating to Dark Skies and lighting strategies in the Middle East. We know the benefits, but is the market ready?
Not too long ago, lighting up cities was the big trend in the Middle East, with clients requesting the biggest and brightest lights, giant screens, and flashy attractions, including world record light shows, lasers, drone shows and more. When night falls, the region's most popular cities become bright, shining spectacles, providing entertainment, attractions, glitz, and glamour. Dubai's fountain shows, illuminated by over 6,600 lights and the Burj Khalifa's LED light shows draw crowds every day from far and wide, and play a great part in making Dubai the most visited destination in the Middle East.
Now we are experiencing a major trend shift that has clients, designers and authorities considering a drastically different approach to lighting strategies that puts our natural environment, the beauty of the night sky and sustainability first.
Now we are experiencing a major trend shift that has clients, designers and authorities considering a drastically different approach to lighting strategies that puts our natural environment, the beauty of the night sky and sustainability first.
Our cities and towns need light, but it comes with unintended impacts.
Light is needed in cities and other residential areas, we know this. Light brings activation at night, allowing us to complete our work and make the most of our free time, enjoy nightlife and night time activities, commute, and safely get around with visibility to avoid hazards. Light beautifies cities, architecture, and spaces. It is an expression of art and celebration, and supports business and the economy by attracting tourism, providing marketing and advertising opportunities, and making spaces unique and enjoyable.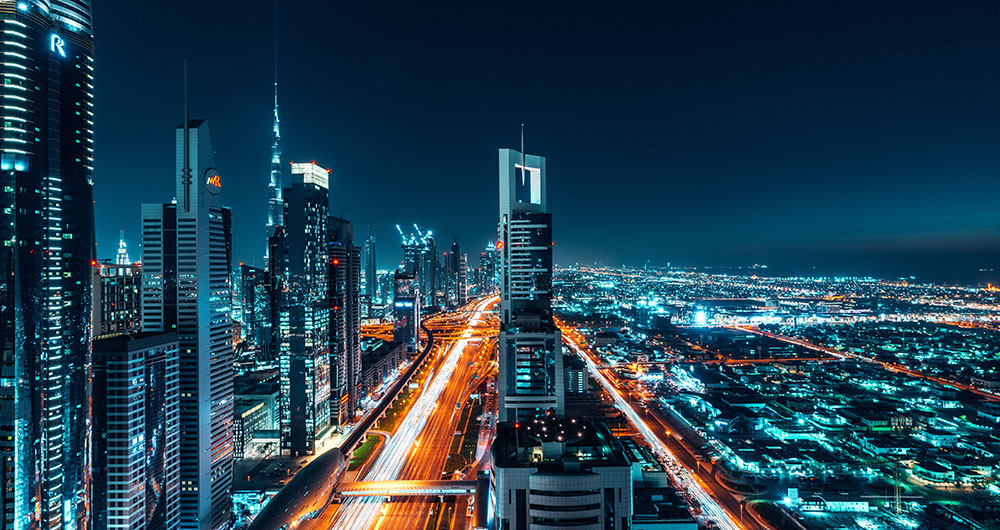 With Times Square in New York, the Las Vegas Strip, and Disneyland resorts falling in the top lists of the most visited destinations worldwide, it is clear that it is not just in this region that light generates such a large response and influx of visitors. There is evidence to suggest that light used in these ways triggers dopamine, the 'feel good' chemical in our brains and a physiological response that makes us more alert, more aware, and brings feelings of happiness, which may explain our positive experiences with celebratory and artistic uses of light such as light shows.
However, we are now in a position where we have a greater understanding of some of the unintended impacts.
Exposure to artificial light at night can cause negative health effects.
Artificial light at night impacts our circadian rhythm, which is necessary for maintaining our sleep cycles and melatonin production, known as our sleep hormone. Exposure to artificial light also affects our production of cortisol, the hormone that helps us manage stress, and can quickly negatively impact our cognitive capabilities, energy levels and attentional control. Links were also found between exposure to light at night and symptoms of depression and many other health issues, potentially relating to chronic lack of sleep.
Beyond just the impact on humans, animals are also negatively affected by artificial light at night.
Many animals are photoperiodic, meaning their behaviour is influenced by daily and seasonal changes in natural light. This includes insects, sea creatures and birds, which are threatened by the negative impacts of light pollution on their behaviour, migration patterns and mating strategies.
The bright glare of artificial light that comes from cities and urban areas blocks our view of the night sky.
This prevents us from appreciating one of the greatest inspirations of our ancestors and contributes to many city dwellers losing touch with the environments around them. Astronomers are even sometimes struggling to make their observations.
Now over 80% of the planet suffers from light pollution, with countries in our region experiencing some of the highest levels.
We have seen an increase in light pollution globally of over 49% in the last 25 years, with Kuwait, Qatar, UAE, and Saudi Arabia being revealed as the most light-polluted places to live on the planet, second only to Singapore. Many city residents might never believe that it was previously possible to see the Milky Way with the naked eye.
A greater understanding of these negative impacts, in addition to a growing appreciation of the benefits of darkening our skies, has contributed to this quick 180° turn from focusing on lighting our cities, to appreciating the beauty of the night sky and aiming for more environmentally and economically friendly solutions. This is where dark skies come in.
Now over 80% of the planet suffers from light pollution, with countries in our region experiencing some of the highest levels.
What are dark skies?
A "Dark Sky" is a visible night sky in an area with very low levels of light pollution.
There are 4 main sources of light pollution that would prevent an area from having a dark sky:
1. Uplighting (any light sources that aim upwards)
2. Glare (light sources should be concealed, facing down and preferably with narrow beam angles)
3. Light trespass (light levels over 10 meters from a building's roof should be less than 3 lux)
4. Colour temperatures of over 3000K (less than 3000K will reduce blue light emissions)
An area may achieve Dark Sky status if it is approved by and meets the specific requirements of the International Dark Sky Association (IDA), the first and largest recognised authority working in this arena, with the aim to protect our night skies.
LEED (Leadership in Energy and Environmental Design), the most widely used green building rating system, also supports the dark skies movement, through providing guidelines for reducing interior and exterior lighting levels, and awarding a LEED Light Pollution Reduction point, SS Credit 8, to those who follow the guidelines and show commitment to minimising their impact on wildlife and human health through reducing light pollution.
These regulations vary according to city area depending on the requirement for light, the use of the land, and the ecological sensitivity of the area. For example, undeveloped areas within national parks and forest land compared to high-activity commercial districts in major metropolitan areas.
The movement has experienced rapid growth and increased awareness over recent years and now 200 places internationally have achieved Dark Sky status, the majority of which are in the UK, and within our region, the majority of which are in Saudi Arabia and the UAE.
Why do we want dark skies?
In theory, we could be happier, healthier, safer, and more productive with darker skies, and become reinspired by the beauty of the night sky and its meaning to our civilisation – something that many of us perhaps took for granted before light pollution gradually led to it becoming more of a rare sight.
Through educating and promoting environmentally responsible solutions, dark skies advocates hope to reduce light pollution so that we can regain visibility of our night skies in more locations, rebuild our sense of the environment around us, and prevent the negative impacts to the health of humans and wildlife.
Achieving Dark Sky status can support an area towards achieving greater conservation, boosting tourism, or providing more education and can drastically increase the financial value of an area. With the rapidly increasing popularity of Astro-tourism, this could present excellent opportunities for those involved.
A major benefit is that reducing lighting will make cities more efficient, more sustainable and cost effective both in terms of money, materials, and energy.
Right now, our region, and the world, is more motivated than ever to achieve more sustainable outcomes. With the high amount of artificial light currently used in cities in the Middle East, we can make changes that will dramatically reduce our energy consumption through lighting. Particularly now, when many countries around the world are in the middle of an energy crisis, we might expect to see the positive effects of reduction in lighting being implemented elsewhere.
A major benefit is that reducing lighting will make cities more efficient, more sustainable and cost effective both in terms of money, materials, and energy.
How are dark skies being implemented in this region?
The night sky is a particularly important part of the Middle East's rich heritage.
The stories of the stars have been told here for millions of years, and many of the names of stars are derived from Arabic. Stargazing has long been a big attraction in the more remote areas across the region, particularly in Saudi Arabia. We know that our view of the night sky is the same view that was essential for inspiring and guiding the Bedouins and pilgrims on their journeys. For many of us it represents the beginning of our civilisation, and the visibility of the new moon is important to the Islamic religion, guiding the times of prayers, fasting and holidays. There are many observatories across the region that are equipped to track this, as well as eclipses, lunar eclipses and the movement of the stars, planets, sun, and moon.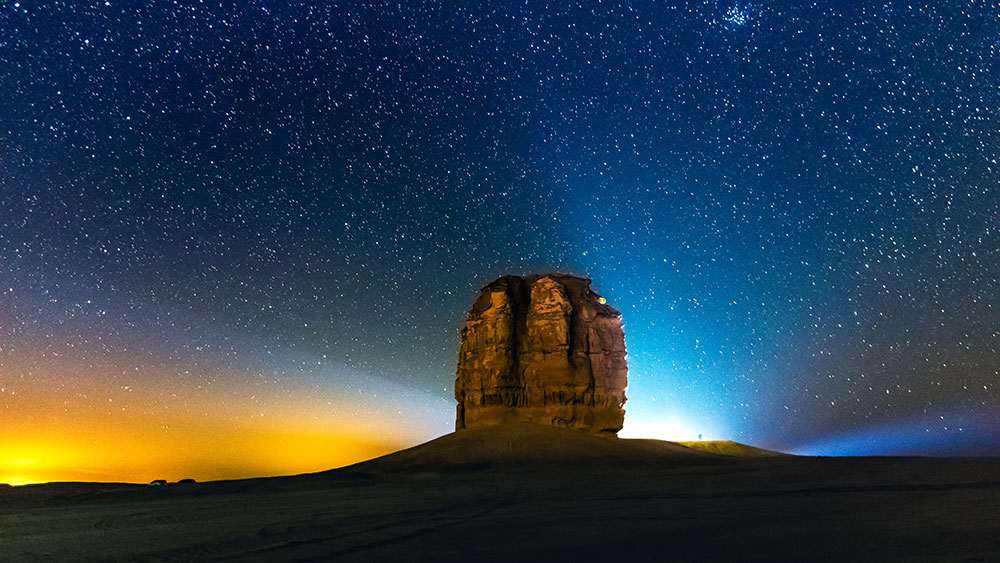 One major part of the dark skies movement, is about supporting and encouraging more people to continue to enjoy this magical and inspirational experience and protecting our connection with our ancestors and heritage, and with the universe beyond our own planet. We are exceptionally fortunate in this region to be able to see the stars and constellations without always having to use professional equipment, but this is now only possible when further out of the cities such as in the desert and mountainous areas.
We have recently seen an exponential growth in Astro-tourism, and this is particularly true in the Middle East.
Many desert resorts across the region offer astronomy or stargazing experiences, with observing stars in the quiet surroundings of the ancient city of AlUla being a key feature of the up-and-coming destination in Saudi Arabia. In addition to being a unique, memorable experience, it also generates awareness of the benefits of dark skies and encourages preservation of our skies for future generations.
Many clients are finding innovative ways to reap the benefits of dark skies without impeding the success of the resort and the happiness of end-users.
Red Sea Global is aiming to create one of the largest Dark Sky reserves in the world. Being home to a great range of wildlife including endangered species, the health of the environment is a key priority. The company has developed a lighting strategy that meets the criteria for Dark Sky status, while using enough sustainable lighting for safe travel around the resort. Their guidelines use modern features to ensure protection of the environment and night sky, throughout both construction and operation of the resort.
But are residents really ready for dark skies?
With brightly lit cities being a major draw for tourism, commercial opportunities and other kinds of business that have been a major success in the Middle East, will it seem contradictory to begin implementing light reducing measures?
Paula Cortés is WSP Middle East's Head of Specialist Lighting Design. Bringing a decade of lighting design experience from a variety of international projects, her goals are to foster industry discussion about sustainable lighting solutions in the region and to develop unique concepts and outstanding designs that are recognised across the region.
 Check out our previous episodes below.